Prof Nicolas Van Mieghem
COURSE DIRECTOR
Thoraxcenter, Erasmus MC, Rotterdam, NL
Nicolas M. Van Mieghem obtained his medical degree and cardiology degree at the Catholic University of Leuven, Belgium. After subsequent Fellowships in interventional cardiology in Ziekenhuis Oost-Limburg Genk, Belgium, Lenox Hill Hospital, New York, USA and Erasmus Medical Center, Rotterdam, the Netherlands, he joined the department of interventional cardiology in the Thoraxcenter, Erasmus MC as a senior staff member in February 2010.
More info
Close info
Dr Kendra Grubb
COURSE CO-DIRECTOR
Emory University, Atlanta, US
Kendra Grubb is an experienced Assistant Professor Of Surgery with a demonstrated history of working in the higher education industry. Strong professional skilled in Cardiothoracic Surgery, Clinical Research, Medical Education, Medical Devices, and Medicine.
More info
Close info
Prof David Hildick-Smith
COURSE CO-DIRECTOR
Sussex Cardiac Centre, Brighton and Sussex University Hospitals, Brighton, UK
David Hildick-Smith is a Professor of Interventional Cardiology and Consultant Cardiologist at the Sussex Cardiac Centre. He is Director of the Cardiac Research, ex-Treasurer of the British Cardiovascular Interventions Society, and has more than 15 years experience of Interventional Cardiology.
More info
Close info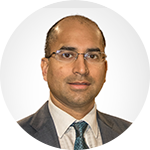 Dr Ajay Kirtane
COURSE CO-DIRECTOR
Columbia University Medical Center and New York-Presbyterian Hospital, New York, US
Ajay J Kirtane is an Assistant Professor of Clinical Medicine at the Center for Interventional Vascular Therapy, Division of Cardiology, at Columbia University Medical Center (CUMC). He is a practising interventional cardiologist at New York Presbyterian Hospital/CUMC with an interest in coronary and peripheral intervention.
More info
Close info
Prof Roxana Mehran
COURSE CO-DIRECTOR
The Mount Sinai Hospital, New York, US
Roxana Mehran is currently Professor of Medicine, Cardiology and Professor of Population Health Science and Policy at the Icahn School of Medicine at Mount Sinai in New York. She is also Director of Interventional Cardiovascular Research and Clinical Trials at The Zena and Michael A. Weiner Cardiovascular Institute at Mount Sinai Hospital where, over the past five years, she has led the development of a globally-respected data and clinical coordination center to support large, multicenter, multinational clinical trials designed, by her team, to help clinicians improve outcomes and quality of life for patients undergoing interventional cardiovascular procedures.
More info
Close info
Prof Holger Thiele
COURSE CO-DIRECTOR
Leipzig Heart Center, Leipzig, DE
Holger Thiele is the Medical Director of the Department of Internal Medicine/Cardiology at the Heart Center Leipzig at University of Leipzig which is one of the largest heart centers in Europe. He is full professor of cardiology at the University of Leipzig.
His main research interests are acute myocardial infarction, acute heart failure, cardiogenic shock, mechanical circulatory support, acute cardiovascular care, interventional cardiology and structural heart disease.
Professor Thiele has published over 500 articles in international scientific journals such as the New England Journal of Medicine, The Lancet, JAMA, Circulation, JACC, and the European Heart Journal with a cumulative impact factor of >4500. He has received multiple awards from the German Society of Cardiology and other organisations.
More info
Close info